Product Description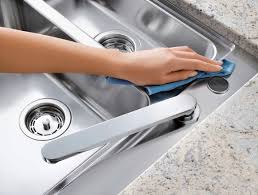 WOW! Stainless Steel Cleaner is perfect for cleaning and protecting stainless steel surfaces. Available in this non-aerosol spray bottle, it is made with 100% natural, biodegradable, and organic ingredients and is environmentally friendly. This completely safe formula was created for cleaning institutional stainless steel surfaces of streaks, fingerprints, smudges and water spots while protecting stainless steel against spills and daily wear-and-tear. This powerful industrial stainless steel cleaner and polish remains the safest and most environmentally friendly product available in the marketplace.
Commercial strength for commercial kitchens and home kitchens, industrial, and institutional
Earth Friendly - EPA-DfE Green Certified, Green Cross Certified
Cleans Without Streaks - long lasting brilliant "liquid" shine
Resists Fingerprints & Smudges
Non-abrasive so it won't scratch
No Petroleum Distillates
Non Flammable & Non Combustible
Also cleans aluminum, brass, and chrome
Works for other applications such as Automotive, Marine, Airports, and Public Transportation
Directions:

Allow hot surfaces to cool before cleaning
Set spray bottle on Spritzer Spray vs. Steady Stream
Spritz only 2 or 3 pumps on a soft and dry cloth or paper towel (less is more)
Wipe on stainless steel or metal surface, then flip cloth to remove excess
Result: A brillian shine which resists fingerprints!
Custom Field
Product Reviews