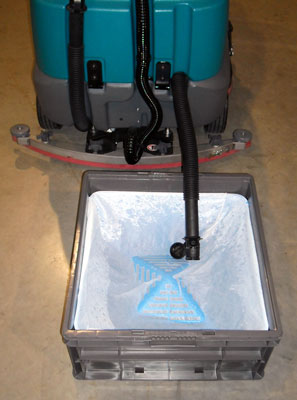 An important aspect of operating a floor scrubber is the proper dumping of the cleaning solution and dirty water.
Most floor scrubbers contain two fluid tanks: one for holding the cleaning solution and water, and the other for recovering the dirty, used solution during the cleaning process. When the indicator shows that the recovery tank is nearly full, it is time to dump. Dumping the dirty water down a drain will only cause drain clogs and plumbing problems. To prevent clogged pipes, we suggest using our Mop Sink Basin Strainer to filter out the dirty water. It can be used in a mop basin, but can also sit over a floor drain or trench drain. In fact it is portable, so can be used on different drains as needed. The Mop Sink Basin feature filters that sit over the strainer part. These filters can be used multiple times, and then thrown away and replaced as needed.
Not only is this better for your drains, but it is less messy, and better for the environment. It is also a lot safer than draining off the loading dock. Loading docks are not always level, and the floor scrubber could fall off, causing damage and harm to others.
So if your facility has a Floor Scrubber... be sure to get our Mop Sink Basin Strainer to keep those floor shiny and those drains flowing!